How To Style the Fab New 5SOS Merch
5 Seconds of Summer proudly displayed their new merch via Twitter earlier this week. Sadly, the tally logo is no more, but the new designs are so cute, er… punk. Is it bad that we're five seconds (we couldn't help ourselves) away from ordering all of it? We've even picked the perfect outfits picked out for the new shirts. Take a look!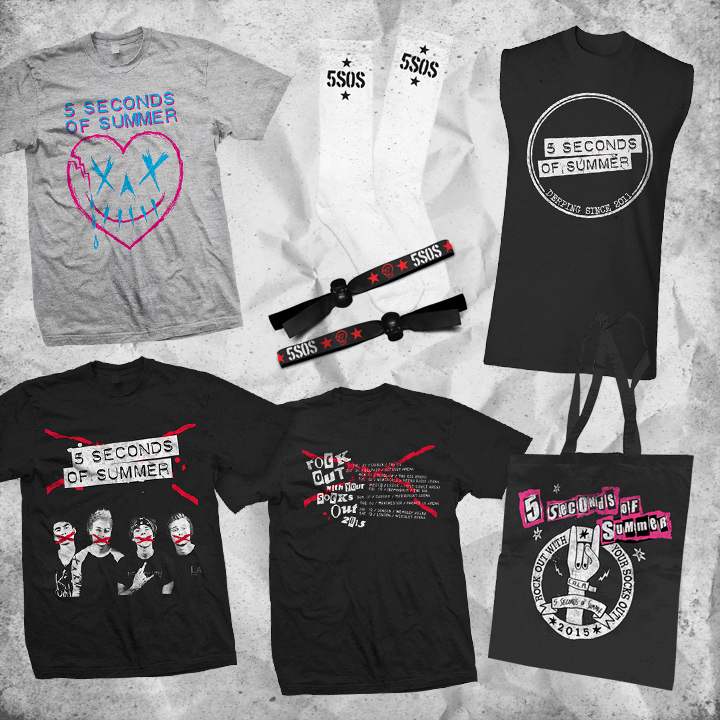 (via Twitter)
The signature tallies may be gone from this design, but we still want this shirt in our closet ASAP. Pairing it with ripped black jeans, a flannel and some classic black sneakers will def give you a punk vibe.
Skinny jeans
choies.com
Flannel Shirt
$44
Vans shoes
housershoes.com
Polyvore Clipper
universalmusic.com
This gray skull tee is perfect for the girly girls out there. It would pair fabulously with a black skirt, some floral print boots and the necklace of your choice.
Mini skirt
amazon.com
Dr. Martens long boots
6pm.com
Charlotte Russe hamsa pendant
charlotterusse.com
Gray tee
universalmusic.com
A tour tee is a staple for any 5SOS fan. Some high-waisted shorts, white Converse and a cute snapback are perf for creating a super casz look.
High rise shorts
etsy.com
Converse flat shoes
shopakira.com
Black snapback
hottopic.com
Crossed Up T-Shirt
universalmusic.com
Which new 5SOS shirt is your fav? Share your thoughts with us in the comments below and don't forget to share why you love 5SOS with us at Sweety High.